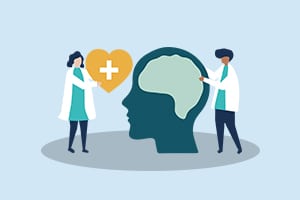 This Mental Health Awareness and De-Escalation online training course is designed to improve the quality of interactions between law enforcement (police officers and security personnel) and those who have, or may have, mental health concerns.
Security Guards will immediately benefit from completing this training as they are constantly engaged with the public. 
By improving your communication skills you can improve safety for all participants which lead to better outcomes.
Certificate will be emailed upon completion.
Course Outline
4 modules based on mental health scenarios.
Course completed in 1.5 hours.
Certificate emailed upon completion.
Consultations with an international advisory board including police, researchers, mental health professionals, adult educators and individuals with lived experiences have aided in the development of scenarios and e-learning topics learners will view as relevant to their daily work.
Immersive and interactive e-learning with embedded first person video.
Scenario based training with learner interaction through decision points.
Gamification experience including integration of a narrative context, feedback, and three-dimensional environments.
Immediately use skills learned in e-learning portion during closing video.
Appropriate for all members of organization.
Evaluation component provided for all organizations.
Focus on improving behavioural skills.